Birthday Wishes For Bhua Ji In Punjabi
Bhua ji is the term used by Indians for their father's sister whom we also know as Aunt. She can be younger or elder to the father. In Punjabi she is called as ਭੂਆ
Bhua's certainly have a special place in her nieces and nephews hearts. In a Punjabi family, if a Bhua is younger to the father, she usually stays with her parents and brother in the same house and watch his brother's children grow and help the mother nurture them whom she call as 'bhabi' till her own marriage and is thus very close to her nephew's and niece's. So if your Bhua/ Bua is celebrating her special day today, send her a special birthday message from the list of the best happy birthday Bhua/Bua Ji wishes from below.
ਹੈਪੀ ਬਰਡੇ ਦਕaਗ ਭੂਆ ਜੀ।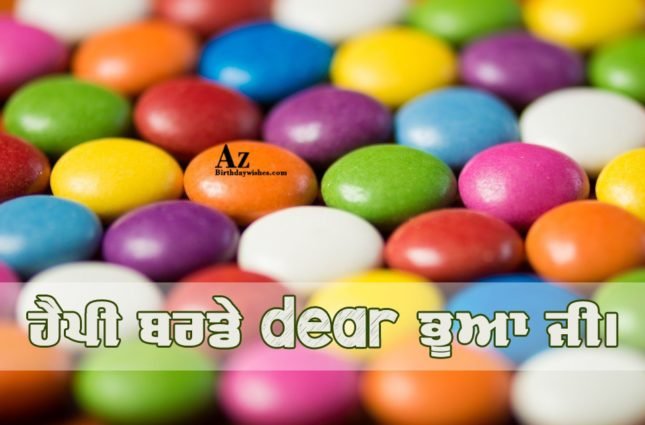 ਉਸ ਮਹਿਲਾ ਨੂੰ ਜਨਮ ਦਿਨ ਤੇ ਬਹੁਤ ਸਾਰਾ ਪਿਆਰ ਜੇੋ ਦਿਲ ਦੀ ਬਹੁਤ ਚੰਗੀ ਹੈ ਤੇ ਰਿਬਤੇ ਵਿਚ ਮੇਰੀ ਭੂਆ ਜੀ ਅਖਵਾਉਂਦੀ ਹੈ।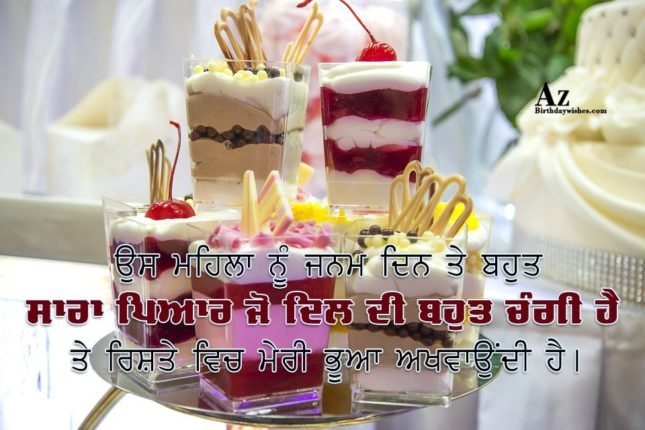 ਪਿਆਰੀ ਭੂਆ ਜੀ, ਤੁਸੀਂ ਦੁਨੀਆਂ ਦੀ ਸਭ ਤੋਂ ਉਸ਼ੱਂਤਮ ਮਹਿਲਾਵਾਂ ਵਿਚੋਂ ਇੱਕ ਹੈ।ਤੁਹਾਨੂੰ ਜਨਮ ਦਿਨ ਤੇ ਵਧਾਈਆਂ ਤੇ ਬਹੁਤ ਸਾਰਾ ਪਿਆਰ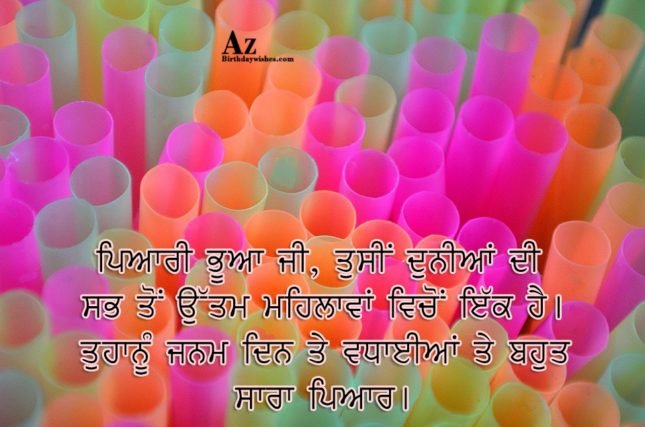 ਆਪਣੀ ਮਾਂ ਤੋਂ ਬਾਅਦ ਮੈਂ ਜਿਸ ਔਰਤ ਨੂੰ ਸਭ ਤੋਂ ਵੱਧ ਪਿਆਰ ਕਰਦਾ ਹਾਂ ਉਹ ਤੁਸੀਂ ਹੋ ਭੂਆ ਜੀ।ਜਨਮ ਦਿਨ ਦੀਆਂ ਬਹੁਤ ਬਹੁਤ ਮੁਬਾਰਕਾਂ
ਆਪਣੀ ਮਾਂ ਤੋਂ ਬਾਅਦ ਮੈਂ ਜਿਸ ਔਰਤ ਨੂੰ ਸਭ ਤੋਂ ਵੱਧ ਪਿਆਰ ਕਰਦਾ ਹਾਂ ਉਹ ਤੁਸੀਂ ਹੋ ਭੂਆ ਜੀ।ਜਨਮ ਦਿਨ ਦੀਆਂ ਬਹੁਤ ਬਹੁਤ ਮੁਬਾਰਕਾਂ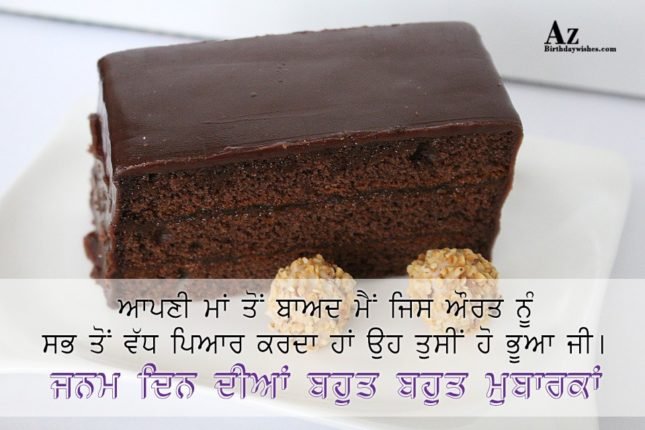 ਰੱਬ ਕਰੇ ਤੁਹਾਨੂੰ ਸਿਰਫ ਅੱਜ ਹੀ ਨਹੀਂ ਪਰ ਪੂਰੀ ਉਮਰ ਇੰਨੀ ਖੁਸ਼ੀ ਮਿਲੇ ਜਿਹੜੀ ਸ਼ਬਦਾਂ ਵਿਚ ਬਿਆਨ ਨਾ ਕੀਤੀ ਜਾ ਸਕੇ। ਜਨਮ ਦਿਨ ਦੀਆਂ ਵਧਾਈਆ ਭੂਆ ਜੀ।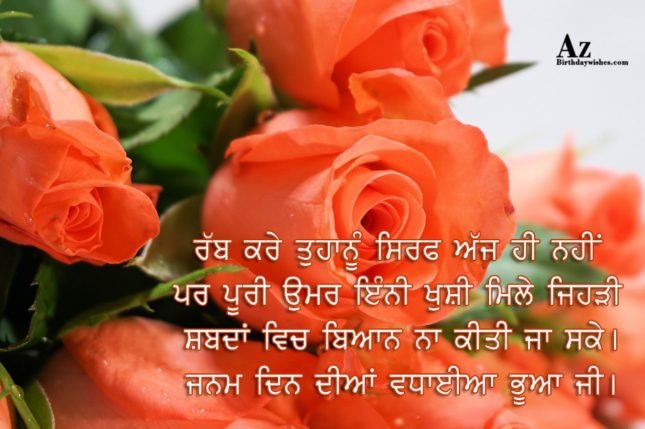 ਹੈਪੀ ਬਰਡੇ ਪਿਆਰੇ ਭੂਆ ਜੀ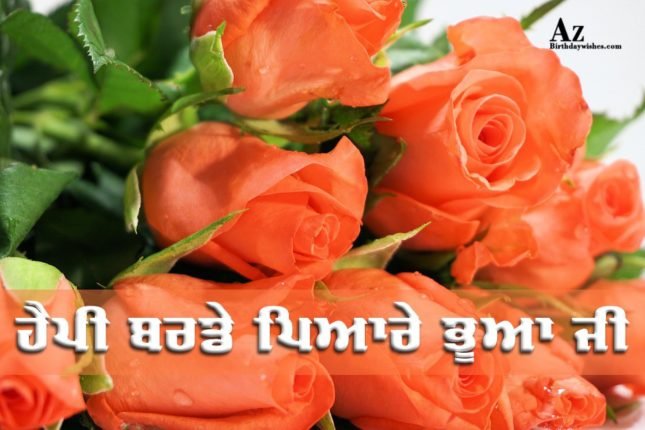 ਭੂਆ ਜੀ ਨੂੰ ਵੈਰੀ ਹੈਪੀ ਬਰਡੇ